New Year. New Pressure.
[This article was published in the Times of India, Crest Edition, dated 22 Dec 2012. An e-version is available here.]
Today's newspaper was full of fliers. There were the usual property dealer ads, fancy gyms that offered to make you lose 50 kg by burning money instead of fat and the chamatkari baba who promised to solve all problems, from getting a wife to a US visa. Then there was one more that caught my eye. Apparently the neighborhood Bablu Sweet Corner is holding a New Years' Eve gala night with a DJ, drinks and eat-all-you-can Chicken Tikka. I wonder where he would find space to host a party, but whatever. I had totally forgotten that I need to finalise my New Year plans. For most people these days, that would be a mini-disaster.
There used to be a time when we would bring in the New Year watching the annual special telecast on Doordarshan. The entire family cozied up under a rajai, anxiously waiting for the show to start from about 10 pm odd. There were no Britney and Bieber then, but we had Sharon Prabhakar and Jaspal Bhatti (God bless his soul) and other stalwarts in tacky clothes performing from the DD studios. The current crop might find the presentation dated, but we loved it. It was so simple, yet so awesome. Mom would cook nice food and our entertainment-starved generation would watch the TV in amazement. The next few days would be spent discussing our favorite moments of the show with friends at school.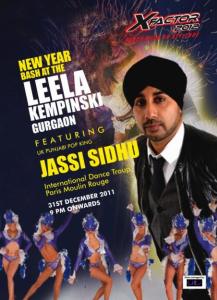 Things changed eventually. We got Cable TV. Internet followed thereafter [Yes, dear young people. There was a time when there was no Internet]. And worse of all, we grew up. Before we knew it, New Years' had to be at a fancy party. There had to be expensive food, dancing, and champagne. Staying at home and watching TV was for losers. You had to have a cool thing to say when colleagues asked the next what you did for New Years' eve, if you wanted any semblance of social standing in the world.
In fact, it has become so big now that everybody seems to be organising an event. It's like New Year parties are the new real estate projects – one around every corner. I mean, Bablu Sweets Corner used to sell Samosas till last year, and now he is holding a gala event! If everybody is only organising parties, who will be left to go to them? God only knows man.
It's a rat-race of a different kind. You need to appear cooler than the others. Do something fancy. Post exotic photos on Facebook that get more likes. Be different. I know of friends who just have to do something new every year. There's my buddy Rajeev who travels to a new country every year to bring in the New Year. One year at a party in Phuket, and the next year at Beijing. By noon on 1st January, his first pictures start appearing on Facebook. There was the one with a hot, drunk woman at a Vegas casino that got over 100 likes a few years ago. There was another one of him sipping champagne at a cruise ship in Bahamas, and one more where he was lying in a pool of his vomit, but he deleted it within half an hour. Another couple I know of are nature freaks who have celebrated New Years' over the years by doing the following – climb Mt Kilimanjaro, cruise down the Amazon river on a little raft, trek through Sahara desert, and a hike to Machu Pichchu. I mean, are you celebrating New Years', or shooting for the sequel of Zindagi Na Milegi Dobara?
I think such people are the reason why lesser people like us live frustrated lives, though I have a mild suspicion Rajeev's travel agent goes by the name of Photoshop. These days you can never tell.
What will I do this year? Let me see. Maybe party at a farmhouse with the high-fliers of Delhi society? Or spend a few months salary at a five-star hotel with an open bar, an imported DJ God-Knows-Who, a C-grade Bollywood starlet performing to item-numbers, drunk Punjabi men staring at women not with them while ready to shoot anyone who looks at their ladies?
Who am I kidding? The prospect of spending that much money, getting stuck in massive traffic jams, and running the risk of getting shot by a hyper drunk kid of a powerful minister, to spend the night amidst sweaty strangers doesn't excite me a lot.
I'll just stay home, watch reruns of Friends on Star World, and log on to Facebook the next morning to 'like' Rajeev's latest photos. And maybe donate the money I save to some charity.