Open Letter to Shahrukh Khan
Dear Shahrukh,
Two months ago, i  was in your town for my book launch. In Mumbai for a couple of hectic days for the big event. We didn't have time to go to any of the touristy destinations, but the missus insisted on one place we just had to see. Mannat. Your home. That beautiful temple where King Khan lives. We took a taxi all the way from Nariman Point, reached your home and dutifully stood there taking in the moment, while dripping in sweat from the burning sun.
We were outside the home of the man who gave us memorable films like DDLJ and Chak De India, the latter being one of only two movies i have seen multiple times in a movie theater, the other being Munnabhai MBBS. Your house was all fenced up, with the barbed wire reminding me of an India-Pakistan border. We didn't even hope to see you in person, sitting in the balcony enjoying a cup of tea or a nice cigarette etc. Gods don't give darshan that easily, and we're cool with that.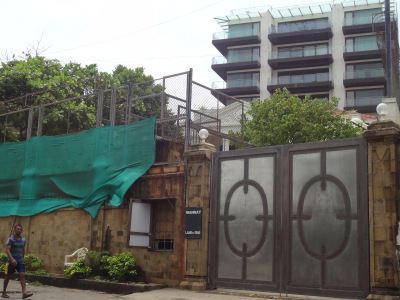 But we were happy to just be there, and went away satisfied that we can post Facebook pictures to prove that we were there. Such is your aura. Your magic.
Now here's the thing. DDLJ was 1995. Kuch Kuch Hota Hai was 1998. It has been 15 years since the time you and Kajol set the screen on fire. When women went weak in their knees when you spread your arms wide open, in that trademark gesture of yours.
Cut to 2013. You are 47 year old. When you repeated the same gesture in Chennai Express, i expected your daughter to come running into your arms, not Deepika Padukone, twenty years younger to you and who probably anyway sees you as a father figure.

When you, as a 40 year old bachelor in the movie living with your grandparents, decided to cheat your bereaved grandmother by breaking her trust around immersing your own grandfather's ashes, i was appalled. You're not a silly teenager to play such a role. You are king khan, icon of icons, the legend of our generation.
I have watched you from the times you started off with Fauji and Circus on TV, to becoming this superstar you are today. You have everything a man can dream of. Millions look upto you. Millions would do anything that you tell them to. You should be at the top of Maslow's pyramid, looking for self-actualization, not trying so hard to be the person you were a couple of decades ago.
Everybody grows old some day. Except maybe Shahid Afridi. In 3 years, you'll be 50. How about behaving like someone at least a few decades closer in age to your real self? I've driven through Delhi University trying to find one man who looks like you do, but couldn't find anyone. Not even the political leaders who spend half a decade trying to complete their degrees.
We've seen enough of you as that lover boy who rescues damsels in distress. Now how about showing that you can do more? That you can experiment. Give us some good cinema. Even Tendulkar announced retirement from ODI cricket, and he is a decade younger than you. Give the young boys also a chance to run around trees with the girls. There's only as much running a 47 year old set of knees can endure.
When people would crib about you, i was the one who always insisted that Shahrukh is a man with more class than anyone else in Bollywood. But by class i didn't mean college classes. You can't play a twenty year old anymore. Come on. Let it go. There are more roles for you to play. Or just play with your kids.
I would hate for you to become a caricature like Sly Stallone. His Rocky movies are the stuff of legend. But he just couldn't move on, and ended making that train-wreck of a movie called Rocky 6. OH MY GOD.
Maybe it is a sign that your latest movie was about a train. Please pull the emergency break now. The train is getting derailed. You will surely keep making money if you make a dozen more such movies, but you'll go down in history as a man who started with circus, and ended with one.
Please don't kill the legend for us.
[Image courtesy: DNA India]