10 Things I Learned From 'The Accidental Prime Minister'
1) Manmohan Singh ji can in fact talk. Even if his secretaries need to highlight sentences in his speeches where they want him to put more emphasis, or sections where they expect applause so that he can stop. He can speak. Allah be praised.
2) It wasn't like Sonia ji didn't let him do anything. Yes he couldn't hire his media advisor in 2009, he couldn't appoint ministers of his choice, he couldn't stop A Raja from becoming a minister, Pranab Mukherjee would forget to brief him about important meetings with heads of states, but he always had the complete freedom to resign of his own choice.
3) Rahul Gandhi ji is not given enough credit for his smartness. He managed to take credit for NREGA when the ideas for widening the scope of the welfare scheme had come from others, including Raghuvansh Prasad, the Rural Development Minister. But then he was always special. Gosh we are going to be in such good hands.
4) Arjun Singh was so secular as the HRD minister that Jamia Milia University named a street on campus after him, while he was still in office.
5) Manmohan Singh ji's favourite proverb is that money does not grow on trees. He has clearly not heard of Mannapuram Gold Loans.
6) During the Kargil war, Reliance industries had someone seeking assurances from Pakistan that they won't bomb the Jamnagar refinery. Capitalism trumps jingoism.
7) The Left are best left alone. They caused a lot of heartburn to the only Indian Prime Minister ever with more degrees than Tendulkar has centuries. Bad boys. 24 Karat bad boys.
8) The reason a lot of parties and people opposed the Nuclear deal was that they felt it would alienate Indian Muslims. Energy independence alienates Indian muslims? Better ties with the biggest superpower alienate Indian muslims? If i were an Indian Muslim, i would be VERY offended. Actually, i am still offended by this secular hypocrisy.
9) It is fine to take an unplanned sick leave from work when you are annoyed with the boss. Even cabinet ministers do that.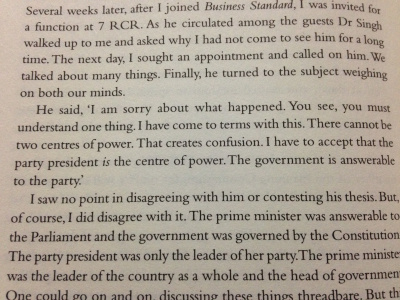 10) More than anything else, not having a spine is great for longevity. People who back their convictions lead miserable lives. The ones who just grin and swallow their tears get to be Prime Minister of a nation of a billion people for ten years.
There used to be a time when I thought that I might be okay for a Rahul Gandhi government, simply for the reason of stable governance, if there's no alternative. After reading this book, I say no way. Make anybody the PM. Even Tushar Kapoor and Uday Chopra will do. But no more the people who subverted the highest executive office in the country so blatantly.
No sir, no Congress government for me.
Sorry Manmohan ji. The book tried hard, but I don't feel any sympathy for you. None.
Wish you a happy retirement.