Dhoom 3 - America, Trolled
I just got back from watching Dhoom 3, having heard mixed reactions about the movie, and i can confidently say that i feel sad for the people who weren't able to see through the genius of the movie. This is an epic. It's a work of art.
Dear GoI, Dear Bollywood - allow me to apologize on behalf of the millions of my brethren who've been ranting on about the former's lack of any foreign policy, and the latter's excessive dependence on foreign locales. You sirs, are awesome. I can now see how our government has been using Bollywood movies to send out strong messages to naughty nations while our diplomats sort out their maids' visa forms.
Still don't get it? Boss, Bollywood and our ministry of external affairs are clearly working in tandem to troll foreign governments. First there was Jab Tak Hai Jaan which put the British in their place. Now Dhoom 3does the same to Americans. Its a veritable slap on their face. A sound retaliation for the humiliation our good Devyani ji had to suffer. The entire movie is all about trolling Americans and their smugness. We even made Aamir look like the guy from 300, only smaller and cuter.
Let me give some examples of the genius of the movie.
Spoiler alert. You've been warned.
One bank in Chicago is getting robbed by who? An Indian. What does said Indian thief do after robbing said bank? Rain dollar bills on poor Americans, so that, you know, they have food to eat. World's biggest economy who?
What does Chicago do to find out this thief? Import policemen from India. It's like after BPO and KPO, we've moved to PPO - Police Process Outsourcing. Take that, you racist people who shout at our call center folks giving them depression and bipolar disorders.
What do the imported police officers do in Chicago? Give interviews to local news channels in Hindi. To rub it in, we even manage to get the most talented actor in all of India to lech at your girls shamelessly. Bam. Trolled.
And the bike. Aamir's especially. It runs on roads. It converts into a jet ski in water. Get two of them and they weld together to become a four-wheeler car, kinda like a convertible with its top down. Take that for technology sanctions. We've got Chandrayaan, LCA, and now Aamir's bike. What do you have? Google Glass? Blah.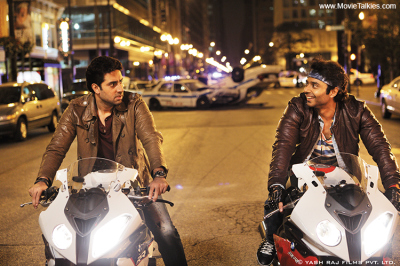 Chicago SWAT team enters crime location in full gear and all. Our heroes dont need any bulletproof jackets or other dhinchak gear. The Amreekans inhale deadly gas and faint, only to be brought back to safety by whom - the Indians, of course. Payback for handcuffing our diplomat.
We even disrupt an American wedding by getting the assembled guests, in their expensive white dresses to jump on tables and perform pelvic thrusts to one of the songs in the movie. Take that, you cavity-searchers.
The desi policemen don't wear any helmets while riding their bikes. Cuz that's how we roll. Try giving them any tickets, you oh-so-law-abiding-country.
No one in the movie stops at any traffic lights. It's like the Avengers, except they wanted to bring another planet to America; we've brought Indian culture.
Ooh and they crashed so many Chicago cop cars in the movie, the city police department must be going through a severe credibility issue right now. The poor guys tried everything - bikes, cars, helicopters, boats. Nothing could stop Aamir's bat-bike-jetski-convertible. The only thing remaining is for desis to start peeing in the open outside Sears tower. Maybe that will complete our revenge for sending over McDonalds and Starbucks.
Do i even need to add that Chicago is the city where the master of the universe comes from?
Well done Bollywood. Well done.
(Image courtesy: IBNLive, MovieTalkies.com)